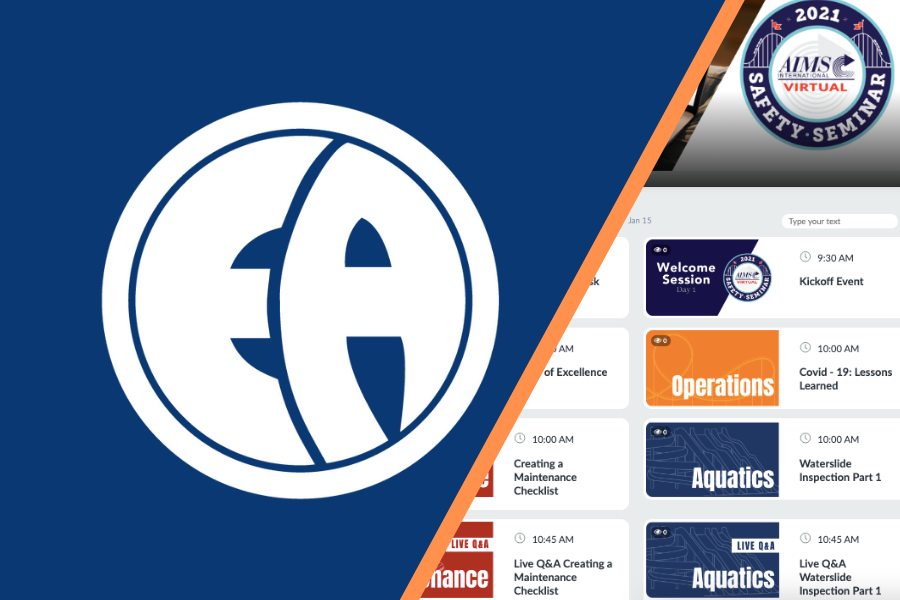 AIMS International Safety Seminar Delivered a Wave of Amusement Industry Education Including 20 Hours of Aquatic Curriculum Sponsored by E&A
The 2021 AIMS International Safety Seminar was full of firsts.
AIMS International provides comprehensive education and certification programs for ride inspectors, maintenance personnel, operations and aquatics professionals. Each year, via the AIMS International Safety Seminar, live sessions offer the opportunity to improve skills, learn about new developments, and gain IACET approved CEUs that can be used toward certification and professional development requirements. Firsts for this year's edition of the AIMS International Safety Seminar included a 100% virtual format that featured pre-recorded classes and live Q&A, eight educational tracks including the new Aquatic Track sponsored by E&A, a Spanish-language track featuring 11 instructors, and a record number of attendees.
E&A was honored to be invited by AIMS to provide the Aquatic Track and grateful for the expertise contributed by our clients, partners and staff. Our own Joe Stefanyak, Steve Miller and Juan Richards were joined by Cody Butcher from Neuman pools; Jessie Benavidez, Brannan Holland, David Thompson and Vera Solis from Typhoon Texas; Jody Kneupper from Wild Waves Theme & Water Park and Premier Parks; Keith Fontenot from Cedar Fair and Schlitterbahn Waterparks; Gene Novak with the Department of Professional Licensure, Office of Public Safety and Inspections – the Commonwealth of Massachusetts; and Natalie Livingston & Ashley Wolfe from ALIVE Solutions.
E&A's experience offering high-level "train the trainer" lifeguard instructor, supervisor, and health and safety education turned out to be a perfect fit for AIMS. Both organizations foster continuing education and have expanded their services to deliver blended learning that gives organizations a head start for training, certification and credential management.
AIMS International Executive Director Mary Jane Brewer, had this to say about this year's conference, "A huge thank you to the Ellis and Associates team for your support of AIMS International and our annual Safety Seminar. As the unmatched leader in attraction industry education, partnering with the world leader in aquatic safety made perfect sense. The resulting E&A Aquatic Track delivered a comprehensive and innovative program featuring the most current industry information and global trends."
To Mary Jane and the AIMS Board of Directors, sponsors and volunteers, we want to shout a huge CONGRATULATIONS! You took the leap, did the work and delivered an amazing program.
If there is something you want to learn about in the future, let us know! We will be happy to research your topic and, if it works, add it to our learning management system, add it to our International Aquatic Safety School, or suggest it for a future AIMS Safety Seminar. As always, we put the welfare of the aquatics industry first because together, we rise!