International Lifeguard Training Program™ (ILTP®)
Ellis & Associates is the industry leader when it comes to aquatic safety. With a reputation as the number one provider of innovative, cutting-edge training since it's introduction in 1983, E&A's International Lifeguard Training Program™ (ILTP®) is recognized around the world as the premiere lifeguard training program available, and; when it comes to aquatic safety, one thing matters most-The quality of your lifeguard training program.

Originally developed to work in conjunction with the Comprehensive Aquatic Risk Management Program™ the success of the ILTP® program has drawn the attention of Owners/Operators of aquatic facilities around the globe. Many individuals and/or organizations have long sought the ability to train their staff, or the community at large, using the ILTP®, without the accompanying services of the Comprehensive or the Customized Risk Prevention Program™. With an ever growing demand for access to the ILTP® program, Ellis& Associates has made its signature lifeguard training program available, at a competitive price, to all audiences including aquatic facilities, resorts, training companies, educational institutions, and individual lifeguard instructors, through an authorized provider service – the ILTP® – Training Center program.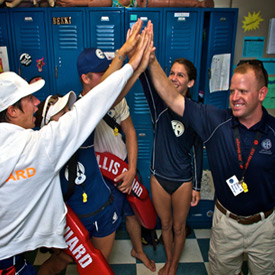 The ILTP® Advantage
The ILTP® is an objective driven program that produces lifeguards that perform at a higher level than those of other national/international training agencies. It is a unique, comprehensive lifeguard training program; the content includes Health Care Provider level CPR (one and two person CPR, AR, Foreign Body Airway Obstruction, and AED training), Emergency Oxygen Administration training, and First Aid, along with state-of-the-art rescue techniques. The comprehensive nature of the program allows for a complete training curriculum that prepares the lifeguard with one, single course, the continuity of which produces competence and confidence.

The ILTP® provides an objective driven and performance-based curriculum. Lifeguard candidates must successfully pass written and practical ("hands-on") tests in order to receive an ILTP® Course Completion Certificate that can be used to gain employment at any aquatic facility in the world. Adequate instruction time is provided for students to meet the training objectives and achieve "test ready" competency.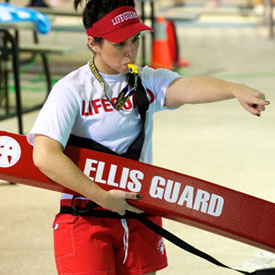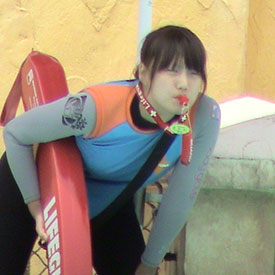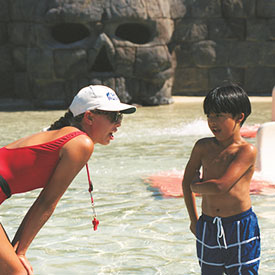 Course: Lifeguard Training
The International Lifeguard Training Program™ (ILTP®) is a comprehensive training program with an objective driven and performance-based curriculum. It designed to provide foundational aquatic safety concepts, techniques, best practices, and the latest standards utilized in modern aquatic facilities, located anywhere in the world. The integrated curriculum includes professionalism, proactive management of guests, incident prevention strategies, guest surveillance, water rescue techniques, standard first aid, healthcare provider CPR, emergency oxygen support, and automated external defibrillation.

Students will perform on deck and in water simulations, drills, and exercises for rescue techniques as an individual and in team scenarios. Students will also spend time practicing actual lifeguarding throughout the course, with incorporated drills highlighting vigilance. Once students have been given the opportunity to master concept and skill techniques, students are required to demonstrate their competency in each area to meet the objective of the skill or concept. Final test outs include the practical demonstration of skills through individual and team management of various emergency situations, as well as a final written exam requiring an 80% or better score.

The lifeguard course is presented as a specific course type, resulting in a corresponding credential or license upon successful completion. Course types include: Shallow water; Pool; Special Facilities with wave pools; Special Facilities with open water. Training will also include the confirmation of ability at specific depths associated with the training facility and/or the facility at which the lifeguard will eventually be employed.

The ILTP® lifeguard course is presented in a blended or traditional leader-led format, with student reference materials available in English, Spanish, Portuguese, Thai and simplified Chinese, among other languages. Students who successfully complete the ILTP® Lifeguard course obtain an ILTP® certificate or license that is valid for one (1) year. Annual renewal is required.

The International Lifeguard Training Program™ is compliant with national and international standards of care and best practices, including the most recent Model Aquatic Health Code (MAHC) and the International Liaison Committee on Resuscitation (ILCOR) ECC Guidelines. All Ellis Education Services courses are accredited through the International Association for Continuing Education & Training (IACET). CEUs may be available upon request.