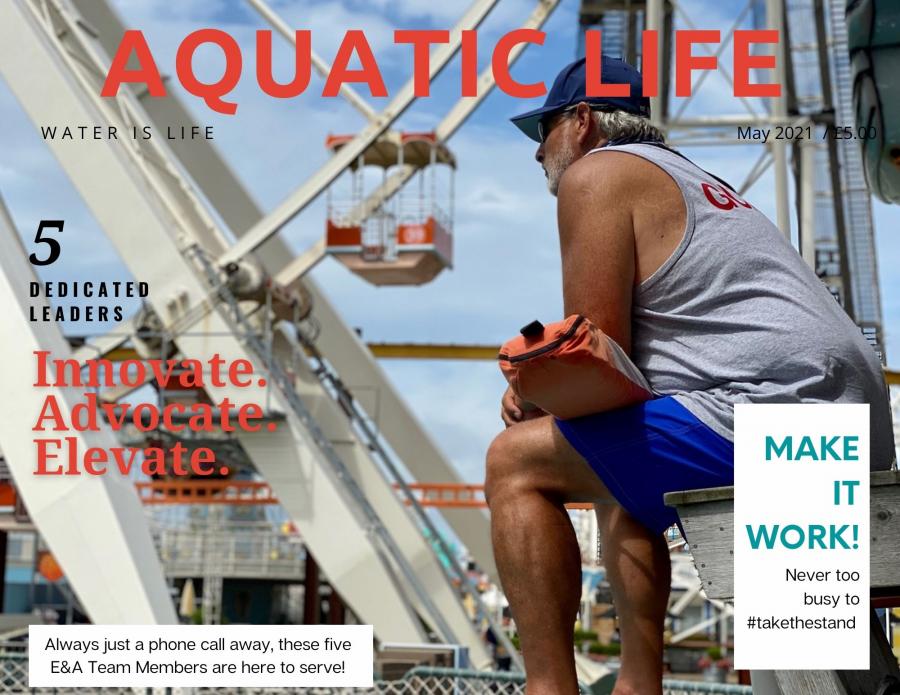 Ellis & Associates - Excellence Through Leadership
Innovating, advocating and elevating the aquatics industry through service.
It's true, Ellis and Associates (E&A) has marked more "first and only" moments than any other aquatic service provider in the world. Globally, E&A remains the largest, full-service risk management consulting firm with more than 750 clients worldwide. And as wide as that world is, the E&A Team is only a phone call away. Innovation, advocacy, research, technology, testing, training - forwarding the culture of safety and accountability is what E&A is known for. It's all for one reason - to elevate swimmer safety everywhere.
One of the most impactful ways E&A serves the aquatics industry is through volunteerism. E&A Senior Vice President and Chief Operating Officer Richard "RAC" Carroll, a member of the Council for the Model Aquatic Health Code (CMAHC) Board of Directors, has been active in helping to inform and establish universal guidelines to help local and state authorities make swimming and other water activities even safer for nearly three decades. E&A Senior Director Joe Stefanyak supports CMAHC as well, serving on the Technical Review, Education and Annex Review committees. Joe also contributes to CMAHC by sharing E&A's expertise via the Artificial Lagoon and Surf Ad-Hoc Committee.
To stay at the forefront of aquatics, safety, and health related advancements, E&A team members hold certifications and ongoing designations that require frequent professional development as well as continuing education credits. These credentials/certifications include NAARSO Level 1 & 2 Inspector, AIMS Level 1, Certified Pool Operator, EMT and ICAE.
Members of E&A's leadership team contribute to the aquatic industry's bank of science-based, technically-driven resources by serving as members of the ASTM F24 Committee, World Waterpark Association (WWA) Safety Committee, US National Water Safety Action Plan Committee, AIMS International Education Committee and multiple International Association of Amusement Parks and Attractions (IAAPA) committees.
In addition to committee work and furthering their own professional development, E&A staff regularly share their knowledge and best-practices coordinating and presenting educational content for various industry associations. Senior Director Joe Stefanyak is the AIMS International Aquatics Track Coordinator and a member of both the NAARSO and AIMS faculty. Joe presents for the WWA, IAAPA, AOAP, National Drowning Prevention Alliance, World Aquatic Health Conference, and multiple Parks and Recreation associations.
Most importantly, E&A shares the collective experience of not only the E&A Team, but hundreds of E&A Clients and Associates around the globe. More than 100 E&A licensed Instructor Trainers and 2500 International Lifeguard Training Program Instructors share E&A's comprehensive lifeguard training program with lifeguard candidates who go on to uphold the culture of safety and accountability at aquatic facilities near and far. E&A's Advisory Board also informs advances in aquatic safety by bringing challenges, changes and solutions to the forefront, providing E&A with the opportunity to constantly research and resolve new opportunities as they present themselves to the industry.
Richard "RAC" Carroll, Jennifer Barber, Keith Fontenot, Steve Miller and Joe Stefanyak make up the E&A North America team. While they are each incredibly busy making a difference in aquatic safety, our Clients know they are always just a phone call or email away. Advice, interpretation, tools, contacts, recommendations – just reach out, the E&A team is here to serve.