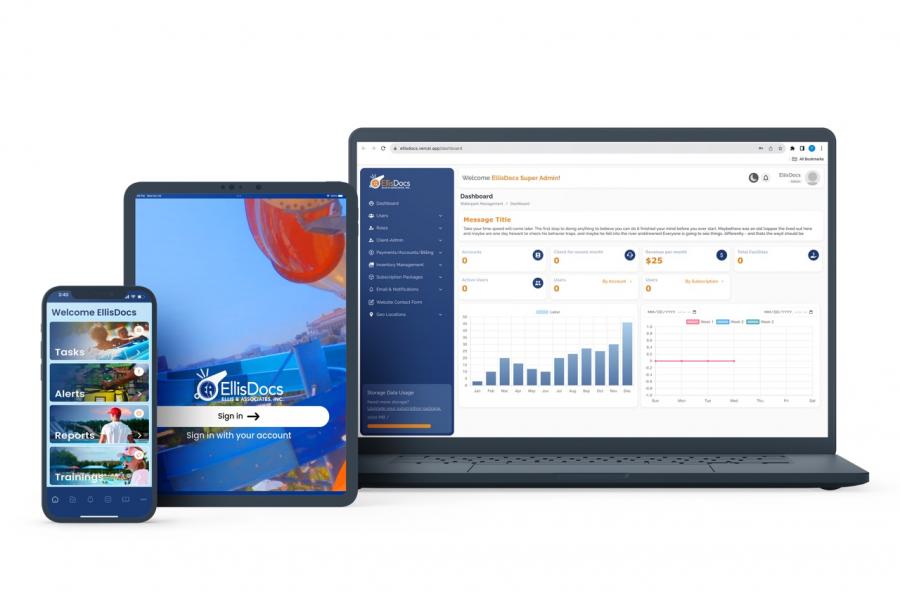 Ellis & Associates Introduces EllisDocs, The First Customizable App-Based Service to Combine Task Management, Record-Keeping and Accountability
For 40 years, Ellis & Associates (E&A) has been modernizing and improving aquatic safety; the result of thousands of hours of research and testing both in the lab and in the field. E&A has introduced more than 45 innovations in aquatic safety and is proud to launch yet another innovation this year at IAAPA EXPO in Orlando. EllisDocs, the proprietary new app-based technology solution, will allow aquatic facilities, big or small, to digitize inspections, record-keeping and reports in one easy-to-use app.
E&A will be presenting the new app on Wednesday, November 15 at 11:00 am. in Booth #2645. Any member of the aquatics and safety industries are welcome to stop by on Wednesday, or at any time, to learn about EllisDocs.
EllisDocs will come loaded with dozens of templates, and the app is easy to customize. An intuitive design means picking up the new application is quick and easy. Functions include:
• Issue and track checklists
• Generate notifications and alerts
• Insert photos into reports and checklists
• Record daily inspections
• Record chemical levels
• Complete and store rescue reports
• Store photos
• Track and document in-service
• Generate reports and analyze data
All data is secure, ensuring privacy and safe storage. The transparency and efficiency of EllisDocs means aquatic facilities can, among many other benefits:
• Reduce downtime
• Digitize documentation and record-retention
• Avoid illegible handwriting
• Collect and analyze data
• Identify trends
"EllisDocs was created for aquatic facility managers by aquatic facility managers," said Richard A. "RAC" Carroll SVP and COO of E&A. "Each Ellis and Associates member of the development team has more than a dozen years of experience managing aquatic facilities. Every day, our Jeff Ellis Management leaders are managing tasks and walking the deck just like every other aquatic facility manager in the world. The combined resources of our fulltime team, Jeff Ellis Management team, and our Associates around the world, will contribute to the continuing improvements of the app, allowing EllisDocs to change as the industry changes, always staying on the forefront of innovation and technology."
The E&A team will be available in booth #2645 at IAAPA EXPO in Orlando November 14 – 17, 2024. Interested facility operators may also email business@jellis.com for more information and to stay in the loop regarding product updates.