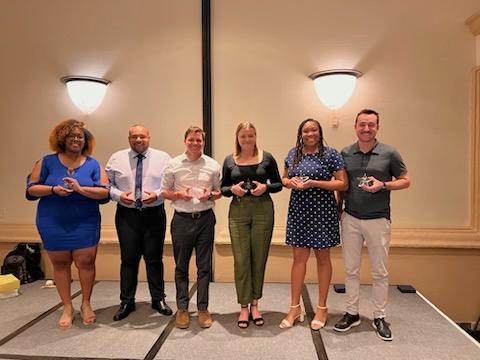 Record Attendance at the 37th Edition of E&A's International Aquatic Safety School (IASS)
Phoenix, Arizona was once again home to the aquatic industry's longest-running, largest, and most comprehensive safety school. A record number of Instructors participated in the pre-IASS Instructor Trainer update and for the first time in 37 years, attendance soared to more than 275 participants. Programming for IASS includes classroom sessions, land skills, in-water skills, team building, professional development, and the opportunity to connect with professionals from around the world. E&A also delivers an IASS East program, taking place in Abu Dhabi beginning 27 February 2023.
For the second year, IASS Faculty selected one participant from each group to receive a Vera Solis Leadership Award. Vera, whom we tragically lost in 2021, was undeniably one of the greatest teachers, greatest leaders, and greatest role models in the aquatics industry. Vera's husband, Louis Solis, was able to join us on the first day of IASS and share his thoughts on how much the E&A Family meant to Vera.
"It was an honor to be joined by Louis Solis," said RAC Carroll, CEO of Ellis & Associates. "Vera was the matriarch of the E&A family from the early days; she dedicated more than 35 years to our industry, helping to inform procedures that save lives every day. Her husband was a big part of Vera's contributions, supporting her passion throughout her career."
This year's Vera Solis Leadership Award recipients are:
Michael Herdson - Columbia Association
Trinity Finley - Six Flags Hurricane Harbor Arlington
(not pictured)
Tanesha Boulden - Prince William County Government
Zhane Dean - Great Wolf Lodge Georgia
Emma Gerrity - Cedar Fair Oceans of Fun
Denzel Flowers - Cedar Fair Valley Fair Amusement Park
Jordan Brouillard - Plainfield Parks and Recreation