About Jeff Ellis & Associates, Inc
Founded in 1983, Jeff Ellis & Associates, Inc. (E&A) is an international Aquatic Safety and Risk Management Consulting firm dedicated to the prevention and elimination of drowning. E&A provides Lifeguard Instructor training, Aquatic Risk Management services, Accident Investigation, Litigation Support, Emergency Care training, Learn to Swim and Continuing Education programs for all types of aquatic facilities around the world.

Ellis & Associates consistently leads the aquatic industry with both technological and programming advancements. Known for many firsts in the field, we are always striving for innovations that will help improve aquatic safety.
E&A Featured on ABC's 20/20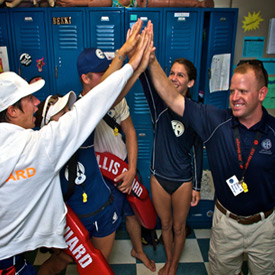 The FIRST U.S. and International service provider to:
Develop and effectively facilitate use of the rescue tube to execute all in-water aquatic rescues (early 80s)
Develop a lifeguard training program specifically for use in waterparks (early 80s)
Develop a Shallow Water Lifeguard training program for use in swimming pools, waterparks, and resorts (late 80s)
Introduce in-water rescue breathing technology (late 80s)
Develop and implement the use of two-lifeguard spinal management and water extrication technology (late 80s)
Design and implement an International Lifeguard Auditing program for Clients participating in the Comprehensive Aquatic Risk Management Program™ (CARMP™) (late 80s)
Develop and implement Supplemental Emergency Oxygen Support training into its lifeguard curriculum (early 90s)
Create a comprehensive lifeguard training program combining First Aid, Health Care Provider CPR, Oxygen Administration, AED, and lifeguarding skills into one curriculum (including lifeguard manual) (early 90s)
Develop and implement Automated External Defibrillation (AED) training into its lifeguard curriculum (late 90s)
Develop a paperless training administration and tracking system using a client only secure website (2000s)
Create and implement electronic training credentials for lifeguard training and other courses (2010s)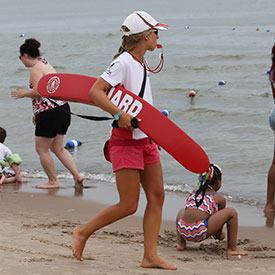 The ONLY U.S. and International service provider to:
Extend an effective auditing program for all E&A Licensed Lifeguards working at E&A client facilities, through our International Lifeguard Training Program and Comprehensive Aquatic Risk Management Program™
Provide an effective and enforceable lifeguard accountability program
Implement and include Supplemental Emergency Oxygen Support technology into lifeguard training curriculum
Provide effective care protocols and systems to E&A Client facilities that facilitate a two-minute AED and one-minute emergency oxygen operating standard for E&A Client facilities
Provide Zone of Protection® area development documentation program, and Zone Validation® documentation program to meet Model Aquatic Health Code (MAHC) requirements
Develop Vigilance Awareness Training® program (VAT®) and implement program use at E&A Client facilities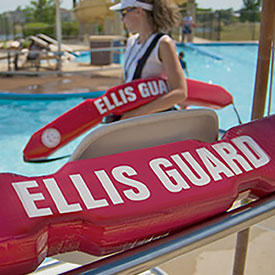 Proactive Standards
Our 10/20 Protection™ standard and 10/3 Protection™ standard have become the recognized worldwide industry standards for lifeguard scanning and swimmer protection in swimming pool and open water environments. These proactive swimmer protection standards combined with pre-operational risk management to establish zones and swimming areas that are safely guarded results in most major incidents being avoided by our client facilities. When incidents do occur, E&A lifeguards and support generally recognize the problem within seconds and are thus able to initiate care before a guest's condition degrades. This frequently results in EMS arriving to find a responsive guest who was already resuscitated.

No other training agency or aquatic risk management organization can claim anything approaching these accomplishments. In fact, organizations have sprung up attempting to copy our concepts. Imitation may be the sincerest form of flattery, but there is no substitute for the original.