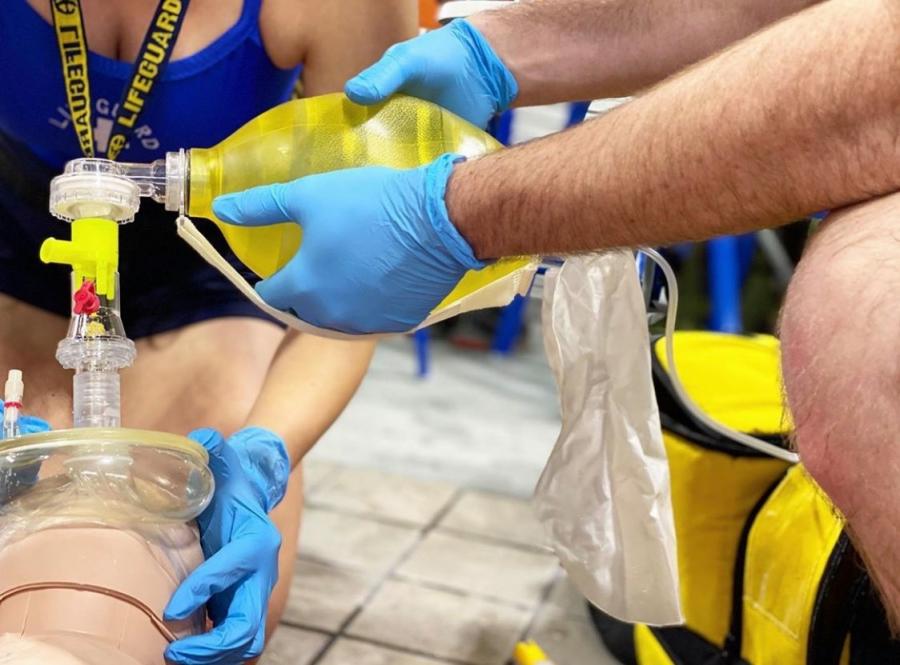 Introduction
We are continuously monitoring research reports and guidelines provided by leading medical and governmental entities relative to the current COVID-19 situation. As more is learned about this novel virus, procedures and protocols that have long been utilized will likely need to be adjusted. Navigating through this time period can be challenging. We will attempt to keep you abreast of changes that impact aquatic operations and safety.

The information that follows represents our efforts to present best practices based on the available information that continues to evolve. This document represents the most current information, and will be updated as new information and guidance is provided. This guideline addresses the five items listed below:
Corona Virus (COVID-19) Information
Infections
The coronavirus COVID-19 is affecting the entire world. While most of those infected are experiencing mild forms of the virus, approximately 6% are experiencing serious effects. People who are most severely impacted from this disease are those who are medically fragile (conditions including diabetes mellitus, chronic lung disease, and cardiovascular disease). These conditions are more prevalent among older adults.
Transmission
It was initially stated that coughing or sneezing were the primary modes of transmission. Research later suggested that the virus may be transmitted when speaking or exhaling, as particles can remain airborne for a longer period and travel farther than initially thought. It is also believed that 25-50% of people infected show no symptoms, yet they can transmit the disease. This may explain how rapidly this virus continues to spread. Recently, the CDC has modified its position on the possibility of transmission of COVID-19 from coming into direct contact with a contaminated surface. While reinforcing that the virus is primarily transmitted by person-to-person contact, it has adjusted its language concerning transmission through contact with contaminated surfaces to "possible". The recommendations for keeping yourself safe and to slow the spread of the disease remain the same. These include: physical distancing, the regular washing of hands, and the routine cleaning and disinfection of frequently touched surfaces Social distancing is deliberately increasing the physical space between people to avoid spreading germs that cause illness. Current guidelines suggest that a minimum of 6 feet (2 meters) should be maintained.
Testing
COVID 19 testing is becoming more commonplace. A rapid (5 minute) test is now available to determine if a person is positive for COVID-19. Additional tests have been developed, which are designed to detect whether a person has previously been infected with COVID-19, through the presence of expected antibodies.
Immunity
Experts have stated that people will likely be immune after becoming infected with this virus, but there remains uncertainty since so much is unknown about this virus. With other coronaviruses, antibodies produced 7-10 days after onset of the virus provide immunity to the specific virus for months or even years.
Treatment and Vaccine
To-date there is no effective treatment for COVID-19 and no vaccine. There is also no therapy proven to ward off COVID-19 in those who are not already infected. Global coordinated efforts are underway to find both an effective treatment and a vaccine.
Training Safety Guidelines
Personal Protective Equipment (PPE) During Class
Each attendee should be provided his or her own medical exam gloves, face covering, protective eyewear (goggles or face shield) and resuscitation mask for use with select skills. These items should not be shared during training. Additional items that should be available are soap and water stations or hand sanitizer, and disinfectant wipes/solutions. During pre-service training employers should include any additional PPE training.
Equipment Preparation
All equipment should be cleaned and disinfected before, during, and after class use according to the manufacturer's instructions. Diluted household bleach solutions, alcohol solutions with at least 60% ethyl alcohol or 70% isopropyl alcohol and most common EPA-registered household disinfectants can be used. Refer to the Resources from CDC and EPA at the end of this document.

This process includes:
Before Class – Instructors must ensure that equipment has been cleaned and disinfected before use.
During Class - Attendees should use a disinfectant (e.g. alcohol, disinfecting wipes) after each use. Particular attention should be given to the face and chest of manikins and resuscitation devices (Masks, BVM, V-VAC and NRB).
After Class – Instructors must thoroughly clean and disinfect equipment immediately after class.
During Lifeguarding and Safety & Health Classes
The following guidelines are designed to minimize the chance of disease transmission during training. These guidelines address how training can be done with physical distancing in place. When physical distancing restrictions are eased, skills (land-based and in-water) will require additional training to achieve the competency objectives:
No one (instructor or participants) with a fever and other symptoms of COVID-19 should participate in any classes.
Participants and instructors should wash their hands at the start of a class, during class, and following class.
Participants should be provided with exam gloves and face covering at the start of class. Disinfectant wipes and hand sanitizer (or hand washing breaks) should be provided during class. Replacement items should be made available as needed.
A minimum of 6 feet of separation of participants and instructors should be maintained whenever possible.
Exam gloves and face covering should be worn during land-based training (classroom or otherwise).
There should be no person-to-person contact involving simulations for choking, rescue breathing, CPR, or bleeding control (direct pressure and bandaging). CPR/RB/FBAO-related skills should be performed only on manikins, including Heimlich Maneuver.
Bleeding control practice requires each participant to have his/her own clean gauze pad and gauze roll. To avoid close contact with others, participants should practice bandaging on themselves.
Stations for manikins with AED training devices should be placed at least 6 feet apart from each other. Only one participant at a time should use a manikin and AED training device. Equipment should be disinfected by participants between uses.
Participants should use their own resuscitation masks when practicing on a manikin. The manikin and mask/valve should be disinfected following each use.
For layperson training classes, CPR will be instructed using the Compression Only (Hands Only) guidelines, thereby eliminating the need for any rescue breathing in any manikins.
When physical distancing restrictions are eased, skills (land-based and in-water) will require additional training to achieve the competency objectives.
Transmission of any diseases via pool water is extremely unlikely if chemicals are maintained properly. But pool water should not be used as a disinfectant for any class equipment.
In-water rescue breathing should not be practiced at this time. The simulated GiD should be positioned face up on the rescue tube, the airway opened with the jaw thrust, and the GiD moved rapidly to the extrication point.
When physical distancing restrictions are eased, best practices suggest limiting exposure when participants are paired during skills (e.g. pair up with the same person for practice).
During pre-service training employers should include any additional PPE training.
During pre-service training employers should include any additional PPE training.
As physical distancing eases clients are encouraged to continue implementation of face coverings during training as well as disinfection and cleaning frequency suggested.
Emergency Care Safety Guidelines
The infectious disease status of any person (guest or staff) will likely be unknown at the time of an emergency. Individuals in need of care may be asymptomatic, yet highly infectious. For this reason, First Responders should treat all incidents as if the person is infectious. This is not a departure from current OSHA Standard Precaution practices, rather, it is a reinforcement of the need for safety and slight modification of practices. This means that in addition to standard precautions, additional practices and equipment should be used when appropriate.
The Need for Personal Protective Equipment (PPE)
Personal protective equipment exists to keep healthcare providers, including first responders such as lifeguards and supervisors, and guests safe from disease transmission during assessment and care. The COVID-19 virus has reinforced the need for responders to take appropriate precautions. The airborne transmission of the virus has resulted in the Centers for Disease Control and Prevention (CDC) issuing updated safety guidelines. The Occupational Safety and Health Administration (OSHA) has further addressed PPE stating that if a piece of equipment is intended to protect employees from a hazard (e.g. airborne disease), then that makes it PPE. Employers should make sure all applicable PPE is available in proper sizes, is clean, that workers are trained on its use, and that workers follow established protocols for its use.
Because viruses can be transmitted from the hands of a responder to the face through touch, gloves and masks are used to help prevent disease transmission. Since COVID-19 virus particles have been shown to be suspended in the air during exhalation by infected persons, NIOSH-certified disposable N95 filtering respirators or disposable surgical face masks are recommended for use by healthcare providers. Due to the general lack of availability of N-95 respirators, the need for fit testing, and the necessity for more of these devices for healthcare workers caring for known or suspected COVID-19 infected individuals, first responders such as lifeguards can use protective surgical masks when responding to an emergency. These masks block large-particle droplets, splashes, sprays, or splatter that may contain germs (viruses and bacteria), keeping them from reaching the mouth and nose of responders. Surgical masks also help reduce exposure of a responder's saliva and respiratory secretions to others.
Evidence also suggests that the conjunctivae, the mucous membrane that covers the eye, could be exposed to droplets and aerosols from infected persons during close contact. For this reason, eye protection (goggles or face shield) is also required for use by healthcare providers.
Because responders will not know the infectious disease status of a guest, and because responders will be in close proximity to guests when providing care (such as during resuscitation), it is recommended that gloves, masks and eyewear be worn by personnel in such situations. If patient is suspected of having, or known to have COVID-19, gowns are suggested, as an additional layer of protection when performing aerosol generating procedures.
Individual and Team Personal Protective Kits
Individual response (hip) packs should contain:
Medical exam gloves
Protective masks
Hand sanitizer
Disinfecting wipes
Resuscitation mask
Additional PPE to consider: surgical mask, protective eyewear, and Viromax filter in its original packaging
Team response (trauma) bags should contain:
Medical exam gloves
Protective masks (surgical masks for responder and GiD use)
Protective eyewear (goggles or face shield)
Hand sanitizer
Disinfecting wipes
Various size Bag-Valve-Masks (BVM) w/ HEPA or Viromax filters 
Supplemental oxygen support system with non-rebreathing mask
Manual suction
Pulse oximeter
AED
Epinephrine auto injector (where appropriate)
Equipment handling before an incident needs to be done carefully. Individual items such as resuscitation masks, BVMs, and filters should remain in original sealed packaging until needed. To avoid possible contamination during a response to an incident, extra supplies should be stored separately from the trauma bags.
Supplemental Oxygen Administration
Supplemental oxygen support (SOS) should be provided to any person experiencing serious respiratory distress. A guest having difficulty breathing should receive SOS via a non-rebreathing mask. There are no modifications necessary for the use of this device.
Bag-Valve-Mask and Resuscitation Mask Use
Positive pressure ventilation includes the use of a bag-valve-mask (BVM) or mouth-to-mask rescue breathing during resuscitation. This procedure results in the guest's expired air being vented from the lungs into the air. The CDC defines this as an aerosol-generating procedure. Without proper filtration, a virus suspended in the expired air of an infected guest poses the potential for transmission to responders. This exists for any virus, but it has come to the forefront as a result of COVID-19 exposure. Because of this potential for airborne transmission, devices (BVM or resuscitation mask) used for ventilation should be equipped with a High Efficiency Particulate Air (HEPA) filter (also called a Viral/Bacteria filter) to clean expired air as it is leaving the device. A HEPA/Viral/Bacteria filter is a small device easily connected between the mask and valve of the device used to provide ventilation.
The Big Easy resuscitation mask has a one-way valve to help keep rescuers safe from bodily fluids, but it does not have a filter capable of providing protection from COVID-19. To protect the rescuer, a HEPA/Viral/Bacteria filter needs to be inserted in this device. E&A has identified the Viromax filter as an effective, inexpensive filter for use. Each BVM and resuscitation mask should have its own filter. It is advisable to have additional filters available to replace any used filters.
Rescue Breathing in the Water
Since the Viromax filter needs to remain dry prior to use, rescue breathing in the water is impractical and unsafe at this time. The unresponsive guest should be positioned face up on the rescue tube and the airway opened in the hope of return of spontaneous respiration. There should be no delay in rapidly extricating the guest so that further assessment and care by properly protected responders can be initiated on land. For a team responding with a trauma bag, rescue breathing, if needed, can be provided through a BVM (with HEPA or B/V filter, such as the Viromax B/V filter).
Performing CPR
Providing compressions as part of CPR is another aerosol-generating procedure. Compressions result in the guest's expired air being forced from the lungs. For this reason, first responders should use a resuscitation mask with a Viromax filter in the absence of a BVM. If neither ventilation device (with a filter) is available for use, place a surgical mask over the guest's face and perform chest compression only (hands only) CPR until other team members arrive. At that point the surgical mask should be removed from the guest's face and a BVM with HEPA or B/V filter used as part of the resuscitation efforts.
Suctioning
Suctioning the airway with a manual device (i.e. V-Vac) places the responder in close proximity to the guest's mouth. Because of this, the same PPE requirements must be used for proper protection of responders. If the guest has a surgical face mask in place, remove it and provide suctioning as it would normally be done.
Response Protocol for First Responders
When responding to non-aquatic incidents:
Treat all incidents as if the patient is potentially infectious.
Team responders should wear required PPE (gloves, protective mask, protective eyewear) before contacting the patient. Personal eyeglasses, contact lenses, or sunglasses are NOT considered adequate eye protection.
Scene evaluation and initial assessment (including COVID-19 related questions) of a responsive patient can be started at a distance of 6 feet from the patient. This allows times for the responder to apply proper PPE prior to providing care
Place a surgical mask over the face of the patient whenever possible and if tolerated by the patient.
Limit the number of responders to just what is necessary for the incident. In many cases this would be 1 responder. If resuscitation is needed, the team should be limited to just 3 responders (1 for chest compressions; 2 for BVM / O2 ventilation and AED operation)
If a breathing patient needs supplemental oxygen, provide it through the Non-Rebreathing Mask (NRB). Place a surgical face mask over the NRB.
If alone and CPR or Artificial respiration (AR) is necessary, provide ventilations via resuscitation mask with the Viromax filter. If filter is unavailable, place a protective mask on the patient and provide compression only CPR until the team arrives. Once a team arrives, remove the patient's mask and provide team CPR or AR care, as appropriate, delivering ventilations through the BVM w/ HEPA/Viromax filter attached to oxygen. Use the AED normally.
If airway suctioning is necessary, and the guest has a face covering, remove the face covering and use the manual suction device (V-Vac).
After Providing Care
Remove and properly dispose of all PPE in a biohazard bag. Wash thoroughly with soap and water (or a hand sanitizer). If using a disposable BVM, the entire device (including the medical grade tubing) should be placed in a biohazard bag. If a resuscitation mask was used, dispose of the entire device in a biohazard bag. If a manual suction device (V-Vac) was used, dispose of the cartridge. Clean and disinfect the device. If an AED or pulse oximeter were used, clean and disinfect the devices. Disinfect the equipment with diluted household bleach solutions, alcohol solutions and specific products and/or ingredients approved by the EPA as shown on the List N: Disinfectants for use against SARS-CoVp2.
General Safety Guidelines
Disinfecting Aquatic Facility Surfaces and Equipment
Pool water should not be used in an attempt to clean facility surfaces including lounge chairs and railings. Pool water often has contaminants on the surface that could get deposited on these surfaces. Use a proper detergent or soap and water to clean facility surfaces. Then disinfect surfaces by using diluted household bleach solutions, alcohol solutions and specific and/or ingredients approved by the EPA as shown on the List N: Disinfectants for use against SARS-CoVp2.
Follow manufacturer's instructions for application. Ensure a contact time of at least 1 minute, and proper ventilation during and after application. Check to ensure the product is not past its expiration date. Prepare a bleach solution by mixing the equivalent of 1/3 cup bleach per gallon of water. Homemade cleaning solutions made with bleach lose efficacy after 24 hours. For porous surfaces, clean with appropriate cleaners indicated for use on these surfaces.
Laundering
Launder potentially contaminated items as soon as possible. If items cannot be immediately laundered, store the items temporarily in a sealed disposable bag. Follow manufacturer's instructions when laundering items, using the warmest water setting appropriate for the items and dry completely. Trauma bags should be cleaned and disinfected with an EPA approved disinfectant.
Resources
The Centers for Disease Control (CDC)
https://www.cdc.gov/coronavirus/2019-ncov/index.html
The World Health Organization (WHO)
https://www.who.int/emergencies/diseases/novel-coronavirus-2019
European Centre For Disease Prevention and Control Resource (Interim guidance for environmental cleaning in non-healthcare facilities exposed to 2019-nCoV) https://www.ecdc.europa.eu/sites/default/files/documents/novel-coronavirus-guidance-environmental-cleaning-non-healthcare-facilities.pdf
Johns Hopkins University of Medicine
https://coronavirus.jhu.edu/map.html
National Institutes of Health (NIH)
https://www.nih.gov/health-information/coronavirus
Guidance on Preparing the Workplace
www.osha.gov/Publications/OSHA3990.pdf 
Water and Covid-19 Facts
www.cdc.gov/coronavirus/2019-ncov/php/water.html  
How to Protect Yourself and Others
www.cdc.gov/coronavirus/2019-ncov/prepare/prevention.html 
EPA recognized disinfectants
www.epa.gov/pesticide-registration/list-n-disinfectants-use-against-sars-cov-2
Cleaning and Disinfecting Your Facility
www.cdc.gov/coronavirus/2019-ncov/community/disinfecting-building-facility.html
Water and Covid-19 Facts
www.cdc.gov/coronavirus/2019-ncov/php/water.html
Interim Guidance for Basic and Advanced Life Support in Adults, Children, and Neonates with Suspected or Confirmed COVID-19
www.ahajournals.org/doi/pdf/10.1161/CIRCULATIONAHA.120.047463
Interim Guidance for Emergency Medical Services (EMS) Systems and 911 Public Safety Answering Points (PSAPs) for COVID-19 in the United States
www.cdc.gov/coronavirus/2019-ncov/hcp/guidance-for-ems.html
The EMS Infectious Disease Playbook
https://www.ems.gov/pdf/ASPR-EMS-Infectious-Disease-Playbook-June-2017.pdf